Pulse-Width Modulation (PWM) Dimmer by SPT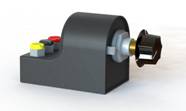 Superior Panel Technology has developed three new, compact solid state Pulse-Width-Modulation (PWM) dimmers to meet all aircraft dimming needs. They are extremely easy to install (one terminal screw for power in, one for ground and the third for power out), minimal heat dissipation, and by choosing the right dimmer (EL/LED Dimmer, Heavy Duty or Extreme Heavy Duty) you avoid the "dimming steps" in brightness often found in other PWM dimmers. The EL/LED Dimmer would be used for LED's and electroluminescent lighting such as SPT's Glow Strips. The Heavy Duty dimmer can handle up to 100 watts. The Extreme Power can be used for up to 400 watt @28V or 200 watt @14V! These dimmers have the smallest footprint on the market for a PWM dimmer with a built in circuit breaking off switch The Max Dim dimmers do not have a built in circuit breaking off switch. See the article "Choosing the Correct Dimmer" which explains when you should and should not have this switch.
SPT offers an industry leading 5-year warranty on their PWM Dimmers!
LED/EL Dimmer with off switch SPTPWMLEDS $115.00
LED/EL dimmer without off switch SPTPWMLED $ 98.00
Heavy Duty Dimmer with off switch SPTPWMHDS $115.00
Heavy Duty Dimmer without off switch SPTPWMHD $ 98.00
Extreme Duty Dimmer only available SPTPWMED $129.00 with-out an off switch