SPT's Leather Like Upholstery Vinyl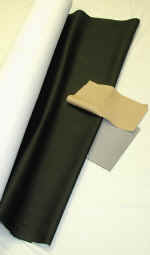 Superior Panel Technology's Leather-Like Vinyl has the ultra-soft leather feel without the leather cost. It can be used for seats, wall panels and it is stretchable which makes it great for headliners. The material meets FAR 23.853(A) flammability requirements without addition flame treatment (which makes it heavier and stiffer). It provides superior wear resistance (100,000 cycles), abrasion resistance and excellent tailorability. The width is 54" and is available in the seven most popular colors (iron gray, sand, blueberry, coffee, cranberry, black and cream). Pricing is per linear yard. Burn certificates are provided with each order.
Drop us an email to sales@sptpanel.com and request a free sample. Include your return address and the color of the sample that you want.
Part Number Description Price
| | | |
| --- | --- | --- |
| SPTVINYLGRAY410 | Iron gray | $42.90 |
| SPTVINYLSAND220 | Sand | $42.90 |
| SPTVINYLBLUEBERRY600 | Blueberry | $42.90 |
| SPTVINYLCOFFEE800 | Coffee | $42.90 |
| SPTVINYLCREAM500 | Cream | $42.90 |
| SPTVINYLCRANBERRY710 | Cranberry | $42.90 |
| SPTVINYLBLACK | Black | $42.90 |